What is Hydro Dermabrasion?



Hydro Dermabrasion is a crystal free method to the microdermabrasion process.
It is the latest renovation in skincare technology. Utilizing water jets, the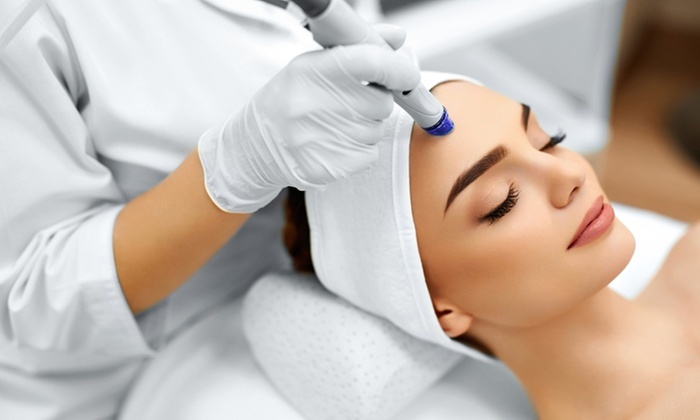 outer layer of the skin will be broken up. This will reveal a smoother, more even texture of the skin. It is perfect for those that want to exfoliate the skin but have extremely sensitive skin. This procedure is gentle and very relaxing, with no discomfort felt. Skin will be slightly pink after treatment, but will subside quickly thereafter. Hydro dermabrasion is used on all skin types, and will help aging skin, skin that is congested, blemished skin, or dull and discolored skin. Oily skin can benefit to make it less greasy, and pores can be shrunk. Mild acne scars can be reduced, and fine lines can be decreased. Puffy eyes have also been treated using hydro dermabrasion. There will also be an increase in circulation and lymph flow. Skin will see results immediately after the procedure. Skin will be soft and feel hydrated.
RF for skin lifting
Cold hammer for skin whitening
Skin scrubber for skin rejuvenation
Hydra dermabrasion for deep cleansing
Ultrasonic for nutrient introduction
Polymer atomizing pen for moisturizing

Exfoliate:

  enzymes loosen dry, dead skin cells, dirt & other debris to unclog pores.



Polish:  a diamond tip pumice buffs skin smooth for a more even surface.
Detox:  a hydro-jet and vacuum thoroughly deep clean pores by flushing out excess oil & impurities.
Rehydrate:  Hyaluronic Acid is infused deeper into the skin, restoring hydration & plumpness.
Replenish:  bathe renewed skin in a custom blend of vitamins, antioxidants & peptides helping to restore skin health and beauty.
We stand behind our goods and services and want you to be satisfied with them. We'll always do our best to take care of customers—our philosophy is to deal with you fairly and reasonably; we hope you will be fair and reasonable with us as well.

Our policy lasts 30 days. If 30 days have gone by since your purchase, your unit will be under warranty.

To be eligible for a return, your item must be in the same condition that you received it. It must also be in the original packaging. A 20% restock fee may apply to your refund.

Refunds:
Once your return is received and inspected, we will send you an email to notify you that we have received your returned item. We will also notify you of  your refund being processed.
If your item was shipped for free by us, the original shipping cost we paid may be deducted from your refund.
Once your refund is  processed, the credit will automatically be applied to your credit card or original method of payment, within a certain amount of days.

Shipping:
Once your order is placed, it can take us 1-2 business days to process and test your order. As soon as that is completed, we will ship your order, a tracking number will be issued and you will be emailed the tracking number.

Depending on your location, it can take 3-5 business days for arrival for Domestic orders (United States) and 7-10 business days for International orders. We ship out of two locations, either California or China. It will depend on current stock and geographic location of delivery address. We will always do our best to get you your product as soon as possible.

One Year Consumer Limited Warranty
Products are warranted to be free from defects in materials or workmanship for one year from the date of purchase. Within this period, Gizmo Supply will, at its sole option, repair or replace any components that fail in normal use. Such repairs or replacement will be made at no charge to the customer for parts or labor, provided that the customer shall be responsible for any transportation cost. This warranty does not apply to: (i) cosmetic damage, such as scratches, nicks and dents; (ii) consumable parts, such as batteries, unless product damage has occurred due to a defect in materials or workmanship; (iii) damage caused by accident, abuse, misuse, water, flood, fire, or other acts of nature or external causes; (iv) damage caused by service performed by anyone who is not an authorized service provider of Gizmo Supply; or (v) damage to a product that has been modified or altered without the written permission of Gizmo Supply, or (vi) damage to a product that has been connected to power and/or data cables that are not supplied by Gizmo Supply. In addition, Gizmo Supply reserves the right to refuse warranty claims against products or services that are obtained and/or used in contravention of the laws of any country. 
THE WARRANTIES AND REMEDIES CONTAINED HEREIN ARE EXCLUSIVE AND IN LIEU OF ALL OTHER WARRANTIES EXPRESS, IMPLIED, OR STATUTORY, INCLUDING ANY LIABILITY ARISING UNDER ANY WARRANTY OF MERCHANTABILITY OR FITNESS FOR A PARTICULAR PURPOSE, STATUTORY OR OTHERWISE. THIS WARRANTY GIVES YOU SPECIFIC LEGAL RIGHTS, WHICH MAY VARY FROM STATE TO STATE.
IN NO EVENT SHALL GIZMO SUPPLY BE LIABLE FOR ANY INCIDENTAL, SPECIAL, INDIRECT OR CONSEQUENTIAL DAMAGES FOR ANY TRAFFIC FINES OR CITATIONS, WHETHER RESULTING FROM THE USE MISUSE OR INABILITY TO USE THE PRODUCT OR FROM DEFECTS IN THE PRODUCT. SOME STATES DO NOT ALLOW THE EXCLUSION OF INCIDENTAL OR CONSEQUENTIAL DAMAGES, SO THE ABOVE LIMITATIONS MAY NOT APPLY TO YOU.
Gizmo Supply retains the exclusive right to repair or replace (with a new or newly overhauled replacement product) the device or software or offer a full refund of the purchase price at its sole discretion. All return warranty shipping cost is covered by the consumer. SUCH REMEDY SHALL BE YOUR SOLE AND EXCLUSIVE REMEDY FOR ANY BREACH OF WARRANTY.

GIZMO'S FINANCE OPTIONS
Thought that owning a cavitation machine was just a dream? It doesn't have to be with easy payment options that might just turn your wish into a reality.
Financing a Gizmo Cavitation machine or product isn't something you will find plastered all over the internet. That might be because it almost seems too good to be true. When you're using a trusted source, financing a expensive machine might make sense.
HOW TO FINANCE YOUR GIZMO
Add to cart

Once you've selected the products you would like to order, simply add them to your shopping cart.
Quick application with Affirm


Choose Affirm as your payment option, provide your shipping details & enter your personal information. Affirm will provide a real-time loan decision. Select your preferred payment terms and confirm your loan.
Checkout and shipping

Confirm your order details and you are all set; your order has been placed! After checkout is complete we will process and ship your products right to your door.
Pay over time

With Affirm you can get your order right away and split your purchase into multiple payments to pay back over time. Choose the payment schedule that works best for you - 3, 6 or 12 month financing with rates from 10-30% APR. When you finance with Affirm you see the approved loan amount, interest rate, total interest you will pay, and the number of months that you have to pay off your loan all before signing up. 
That's it. Get started right now by clicking on the Pre-qualify Now button below to browse our huge selection of Cavitation Machines, Sauna Blankets and other products. Remember to select monthly payments on the checkout page if you're interested in a monthly payment option.
WHY OPT FOR FINANCING?
If you have enough cash to pay for your next Gizmo Supply cavitation machine upfront we encourage it. Financing is a good alternative though. Get your gizmo now and pay for it over a set period of manageable payments.
PAY OVER 6, 12, 24 MONTHS WITH RATES FROM 0-30% APR FOR A LIMITED TIME ONLY
From 0% APR - For a limited time only, Gizmo's is offering monthly payments with rates from 0% APR!
Buy now using Affirm and pay off your purchase in easy, fixed payments over 6, 12, or 24 months at rates from 0-30% APR. Down payment may be required depending on your credit and the offer is good only for transactions below $15,000 USD. For example, for a loan amount of $1,000 pay $83.34 per month for 12 months at 0% APR. Previous purchases ineligible for offer. Offer subject to change at any time. Estimated payment amount excludes taxes and shipping fees.
* Subject to credit check and approval. Rates from 0-30% APR based on creditworthiness. 0% offer is valid from November 1, 2017 ET and is subject to change at any time. Previous purchases are not eligible for offer. Affirm loans are made by Cross River Bank, a New Jersey State Chartered Commercial Bank, Member FDIC.